Toy Playhouse COVID19 Trading Update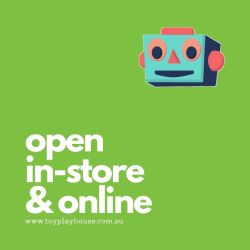 We are open online & in-store
During the lockdown, our Free local delivery service was very popular and we've decided to keep this going to service our local customers in 3011-Seddon & Footscray, 3012-Brooklyn, Kingsville & West Footscray, 3013, 3015, 3016, 3018, 3025 & 3028 - Altona Meadows.
We've also turned our free Click and Collect (pick up in-store) back on so you can order online and pop down to see us and collect it. As always we also still have our normal Australia wide delivery via Australia Post.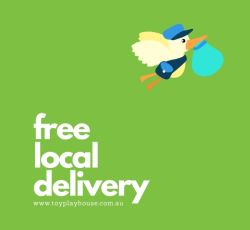 Introduction of local free delivery
We are now offering a local free delivery service to local suburbs. We are limiting to 4 days a week to limit the number of times we need to go out into the community to make deliveries. Our delivery windws are;
Monday, Wednesday & Friday after 3pm
Saturday after 10am
The delivery cut off window for weekday orders is 2pm and Saturdays is 9:00am. If you place your order before the cut off time you will receiev your order on the same day.
Our local deliveries are 100% contactless, we will message you via an SMS on the day of delivery to make sure you are available for delivery, if confirmed we will make delivery by leaving the order at your door. We will then send another SMS when we are clear of the area for you to come out and collect it. We will not knock on your door and if your property is blocked by a gate, we will leave at the gate. We also regularily clean the store, which no longer has people customers in it, we pack your order wearing PPE.
Free delivery available for postcodes
3011 - Seddon & Footscray
3012 - Brooklyn, Kingsville & West Footscray
3013 - Yarraville
3015 - Spotswood, South Kingsville & Newport
3016 - Williamstown & Williamstown North
3018 - Altona & Seaholme
3025 - Altona East, Altona North
3028 - Altona Meadows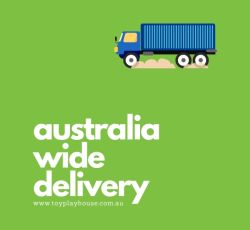 Australia wide delivery
We will continue to send orders placed online to every suburb in Australia via Australia Post. We offer Standard and Express Post. Australia Post has advised with the increased volume of parcels some deliveries are delayed and taking a little longer than usual and Express Post is not a Guaranteed Next business day service at the moment, but it's still the fastest option for deliveries outside of our free local delivery suburbs.